Beyond Eternity: A prelude of Scripted Fates
A downloadable game for Windows

Beyond Eternity: a prelude of Scripted Faiths
is a Metaphysical Visual Novel that uses Puzzle and AR mechanics to tell its story.
During the game's conceptualization, I was inspired by UNDERTALE /deltarune and Doki Doki Literature Club's 4th wall shenanigans.
Beyond Eternity puts its own twist in the 4th-wall breaking spectrum. The story is a hybrid of Fiction and Non-Fiction. It completely engulfs The 4th Wall into its lore.
Now, that's where the "Metaphysical" in "Metaphysical Visual Novel" comes in.


I would explain how this "hybrid" aspect is achieved in the story, but...
The game is best experienced blind. This page only tackles the spoiler-free bits of what the story and gameplay . This is due to literally everything being directly connected to the plot, even including the game's files and the production period...




even this page is effected by the plot.
All fan content is effected by the plot.
The installation process is part of the story.
Our world and the Scripted Fates multiverse intertwines each other in a harsh duality.
◮◮◮◮◮=========◭◭◭◭◭

Beyond Eternity offers:
4~ hours of story/gameplay

A story that makes fun of the Visual Novel cliche of always being about love.
1.5k lines of dialogue
24136857029146358079 Living-breathing(?) Characters
6 FUN puzzle minigames
20+ self-compose soundtracks
40k+ lines of code
50+ Randomized dialogue that makes everyone's play-through different.
5 Unique Endings.
An "AutoSave" System
Fun references/nods to other stories I was inspired by (please don't sue me)
Game File exploration
Character Creation (?)
Multiplayer (?)
At least 1 cat
Foreshadows around half a decade of future stories/games
The Scripted Faiths/Fates project was something I have been working on for 7 years (as of Feb 16, 2020). All I've been doing during that time was world-building. Thanks to UNDERTALE bringing the concept of 4th Wall Breaking in videogames to such a popular extent, I felt like it was finally time for me to work on my own project.

Beyond Eternity is supposed to act as the prelude or introduction to the world I've been discovering for years. I have spent so much time a passion onto this series before it has even succeeded; working alone for the most part since I don't know how to express any of my stories in cohesive words, only through act.
So, if you found Beyond Eternity interesting, maybe try checking out:
(The title and project is at a "Pre-Production" stage. I am REALLY looking for artists to help out with this project, cause let's both admit it. I suck at art, lol. It's not really my forte.)
Just a slight disclaimer: The stress from developing Beyond Eternity has caused almost a whole year of anxiety, loneliness, and awkwardness. I'm also not good enough to program, yet, I'll admit that. So, I'm going to be on a long hiatus for my mental health and programming training. I don't want Scripted Fates itself to be a train wreck. So, I'm making sure you know this before you donate to the project. I WILL post/upload some progress reports every once in a while, like new music. But don't expect too much until I get the basics of coding down.
◮◮◮◮◮=========◭◭◭◭◭
It's VERY damn hard to make credits sync-up with music in the game engine I'm using. So, any credits I didn't put there, I'll be putting here:
Raw SFX files:
Fire Burning: JaBa (http://soundbible.com/1902-Fire-Burning.html)
Large Fireball: Mike Koenig (http://soundbible.com/1348-Large-Fireball.html)
Instruments/VSTs: Necromare, VSCO2, SGM Soundfont, Magic8bit.
Stapler: SoundBible.com-374581609

Software: Photoshop, FLStudio20, Vegas Pro, Paint.NET, IbisPaintX, RenPy.
Hardware: http://bitly.com/98K8eH

Comedic Advice: http://bitly.com/17mR8bN
Tutorials: https://www.youtube.com/watch?v=oHg5SJYRHA0

Non-Pixel Artists:
Huper123
Sankyuro
???
Pixel Artists:

me
Pray for fate show mercy to thee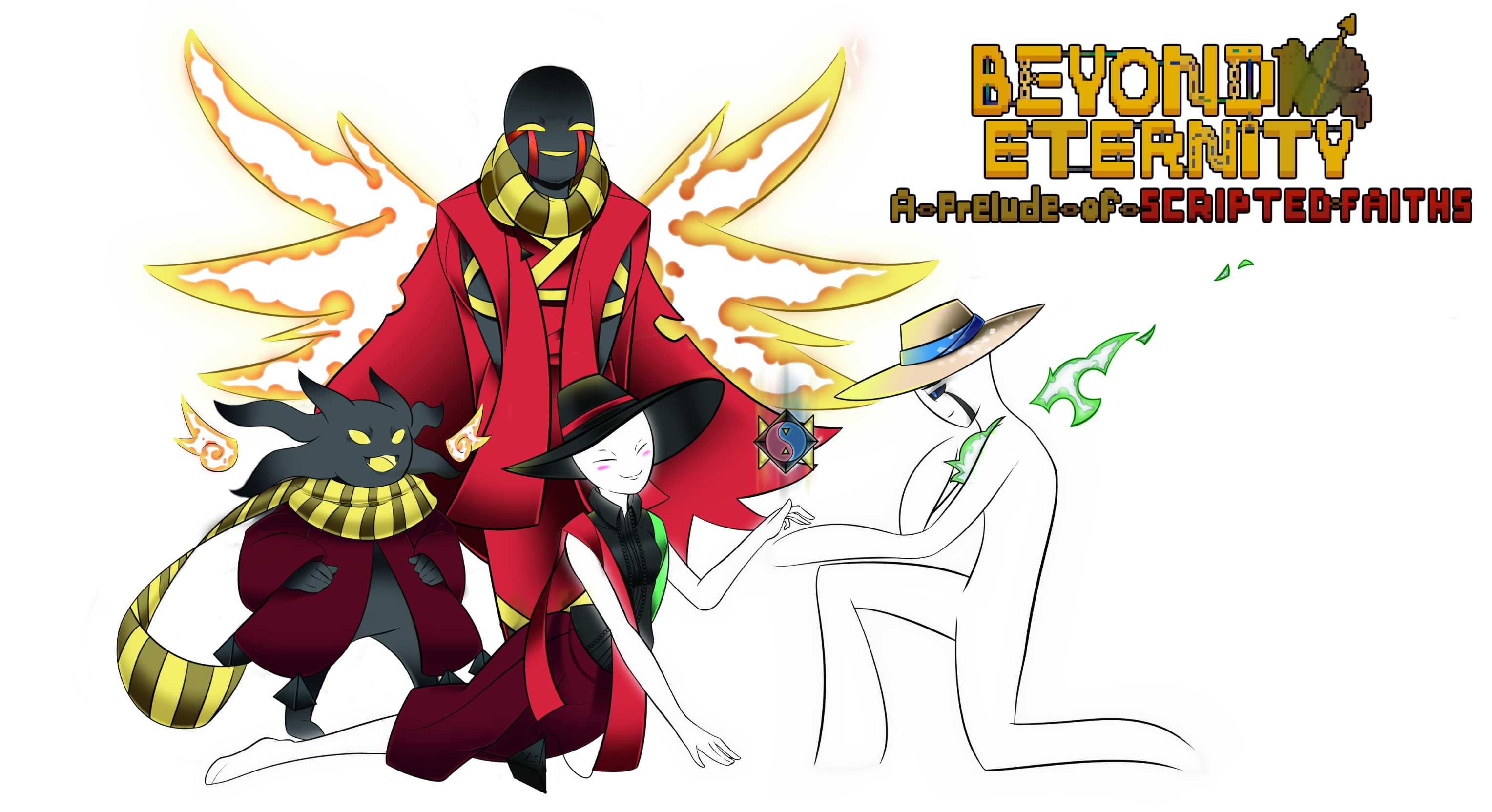 | | |
| --- | --- |
| Status | In development |
| Platforms | Windows |
| Release date | 51 days ago |
| Author | Razeacc |
| Genre | Visual Novel |
| Made with | Ren'Py, FL Studio, Paint.net |
| Tags | 2D, 4th-wall, meta, Mystery, Pixel Art, Singleplayer, Story Rich, Text based, weird |
| Average session | About a half-hour |
| Languages | English |
| Inputs | Keyboard, Mouse |
| Accessibility | Subtitles, One button |
| Links | Patreon |
Download
Click download now to get access to the following files:
Beyond Eternity's Official Soundtrack
Borderbox Installer 0.1.0.exe
356 MB